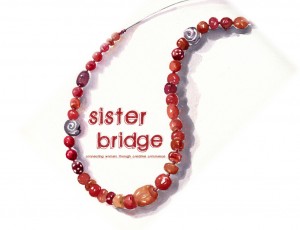 What is Sister Bridge?

Sister Bridge exists to connect women around the world in prayerful partnership, by providing an opportunity for women in the U.S. to purchase hand made items from women in developing nations.  Currently, we offer African cloth bags and home decor, Indonesian beaded jewelry and ornaments, Cambodian baby quilts, and card sets from India.
100% of the funds goes directly to the women/artists, through specific missions organizations that Sister Bridge has partnered with. By purchasing, wearing, and selling these products, we are standing with our sisters in remembrance, support, and love.
The Need

Women around the world have the unique potential to be many things: wives, mothers, grandmothers, artists, musicians, scientists, athletes…most importantly, they have the potential to understand that they were created by a loving God who cares deeply for them. But sadly, many of the women that carry this potential are never given the opportunity to rise above the horrific circumstances they face.
Just imagine for a moment that you were a woman whose life has been changed by just one of these situations:
The AIDS crisis, taking loved ones, writing your death sentence.
Human trafficking, putting you and your daughters in a living nightmare.
Becoming a widow, leaving you with no rights, being forced off of your property.
Being sold into slavery, children in tow, with debts that can never be re-paid.
Extreme poverty, considered less than human, daily life in a slum.
The Products and Ministries
In this 2014 Season, we have products from India: shawls, scarves, headbands, warm crochet head wraps, and cards; products from Indonesia: paper bead jewelry and ornaments; and products from Swaziland: diaper bags, market bags, many types of purses, wallets, and ornaments, as well as kid's aprons and doll clothes, all made from beautiful African cloth. The ministries we partner with are:
www.coi.org
www.rahabsrope.org
www.timbalicrafts.org
www.beadsofjava.org
Reaching Our Sisters 
When our heart breaks for the least of these, when we really stop to listen and really stop to see, the hardest step in the journey has already been taken. Becoming conscious. Allowing brokenness. God has our attention and now we can join Him in His work to bring light, salvation, joy, and hope to the nations.
There are many avenues God is calling His people down, all for this one purpose, and we must each individually hear His voice for our specific role. To pray. To give. To go. Where? When? How? Sometimes when we ask these questions, the answer is simply to join in on someone else's great idea! That is what Sister Bridge is all about: supporting the great ministry these four missionary organizations are already doing.
What Sister Bridge Does

We simply order the products, book parties from November 1st through December 15th,   and bring these beautiful, handmade and signed crafts to show friends and family. We have cards, jewelry, bags, and much more, with prices ranging from $4 to about $70. It is our desire that those who purchase the items, and those who receive these items as gifts, will partner in prayer with the woman who made them. Having items like this in our homes and daily lives increases our attention to the deepest desire of God's heart: That ALL may know Him, and His great love shown through His Son.
How Can You Be Involved? 

Book a party to be held at your home, church, or school! When you book a party, we will send you small informational invitations to hand out to friends, co-workers, family, & neighbors. You can book one for next year if you weren't able to get on the calendar this season!
Go to the websites, learn more, and consider being a branch of Sister Bridge in your own unique way!
Pray for these organizations, the people who work and volunteer for them, and the people they reach.
Remember in prayer the sisters that made the products you purchase.
Spread the word:  Facebook.com/SisterBridge
Read: Sister Bridge Newsletter
Leadership Team Downloads: