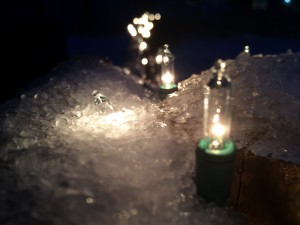 Christmastime is always a whirlwind. I realize I don't have to let it be, but to a certain extent – even with the strongest of boundary lines – it just happens. Gifts aren't bad. Shopping isn't bad. Seeing everyone you're related to and then some definitely isn't bad. Eating isn't bad. Cooking isn't bad. Making crafts and decorating isn't bad. Traveling isn't bad. Going to special shows and events isn't bad. So why at this time of year do so many of us feel like we're taking a deep breath and diving in, hoping we'll still have some air left when we get to the other side? Or maybe that's just me…
I think it's partly because Christmas is more than just a day or two, or even a week, of gatherings and celebrations. It is a full month. That can be exhausting- all that partying, planning, cooking, shopping, dressing up, traveling extrovertedness! Expectations can get a little out of hand and budgets can go out the window when people start thinking, "Hmm…what do I want for Christmas?" or "Oh, I know what they want for Christmas (and I must find it for them)!"
I don't know. It's not bad or anything, I just kind of feel like Linus in the Charlie Brown Christmas cartoon. Sometimes you get a window of opportunity to see a little clearer about how you want your life to be, and while you can't change the sheer enormity of the get-togethers and traditions, like Linus reminds: We can set our hearts in a different direction.
*Every gift we give can be in honor and memory of the gift God gave when He sent His precious Son to the earth. That may bring about a complete shift in our motives and method of giving, with this in mind.
*Every moment of anticipation we feel as we wait to see people, eat those specific goodies, receive surprises, and re-live traditions is a parallel to the anticipation we feel along with the rest of the world for Christ's return. May that anticipation grow to lengths and depths so much longer and deeper than our hopes for the holidays.
*Every bite we eat can be a reminder that God has provided not just our needs but our wants. And maybe we'll see ways we can give up some wants this coming year so that other's basic needs will be met.
*Every hand we hold and hug we share can become a prayer for that person, that their next year will be their best yet.
*Every freezing minute getting from place to place on these winter nights, we can breathe a "thank you" that we have coats, warm beds, and a home to go home to. Both literally and figuratively, in the weather and in different areas of our lives, it's hard to wait for the thaw of spring. But in that cold we can give thanks that seasons do change. They do, and they will.
This Christmas, I am praying for the mindfulness to see the meaning behind the traditions, worship through the amazing words of Christmas hymns, and take every opportunity to slow down and just love.
There's nothing that has to happen this Christmas but to love.