Friday night was truly a momentous night at the Taylor household.
Five years ago this month actually, we met our daughter Yemisrach at Enat Alem orphanage in Addis Ababa, Ethiopia. The ride there on the bumpy dusty roads, the laundry line of tiny socks and clothes going across the compound, the sounds of lots of little voices…the door that stood between us and our baby…walking in and seeing her, in real life, for the first time…These are all sights and sounds I will never forget.
Yemi had had a little crib-mate for about six months, and this little baby was being picked up by her parents the next day. We fell in love instantly with our baby and were basically carried on cloud nine back to our hotel.
After Yemi came back to the hotel with us, we met the others also adopting at that time (they had been doing a small tourist trip to see the country) and the next day her crib-mate, Nadia, was brought to the hotel, too. We saw each other a little bit there, but mostly we all hung out in our rooms with our newest daughters! We all flew home together, but parted in D.C.
That was five years ago…
On Friday, Yemi's sweet little crib-mate and her parents and sisters took time out of their vacation to drop in and share a meal with us at our home. They live about 8 hours away. We had the most wonderful time!!  Here are a few pics!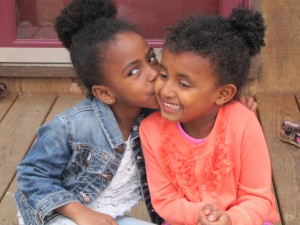 We genuinely cannot believe how alike these two girls are! They have such similar silly personalities, and ultimately they can be summed up in two words: These girls are life-lovers and leaders.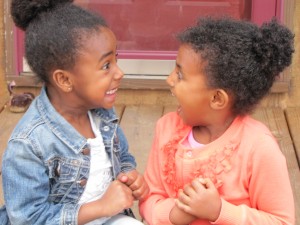 It really does leave me speechless, though I try to put it into words, how beautiful it is for these, especially these, girls to be life-lovers and leaders.
29,000 children under the age of five die every day, mostly in third world countries such as Ethiopia, and most deaths are from preventable illnesses. That's 29,000 kids that didn't make it to their fifth birthday.  
These girls made it, and believe me, they are more than just surviving. They are living it up, and helping all those around them do the same.
I can't imagine my life without my Yemi, whose name means "good news". I simply cannot imagine her not being in my family and my life.
And looking at the other end of the equation, I cannot imagine her without parents. Those of you that know my Yemi, can you imagine her on the streets of Addis Ababa? I wonder if those eyes would gleam as they do today. I wonder honestly if she would even be alive. I'm not "tooting my own horn" for adopting…that was my honor, an undeserved honor. My heart in saying this is that those 29,000 kids were also something special, something to be cherished and taken care of and adored.
Child sponsorship, fostering, adoption, mothering, teaching– any part that you can play in the life of a child– is an unequaled task. Truly unequaled. If you are doing any of those things right now, I want to speak directly to you and say:
Your presence is enough. Don't look for a bunch of other stuff to accomplish for a legacy. Your service to them is truly a service to Jesus Himself, who said "Whatever you do for the least of these, you do it for ME." Until they know how to do life on their own feet, they must have an advocate, a guide, a nurturer, a caretaker, a friend, and a prayer warrior! You are invaluable, and what you're doing is changing the future of the world.
Yemi and Nadia are success stories, my friends. My piercing desire to "make a difference" in impoverished countries after being a missionary in Mali will never be fully satisfied, but it led me through the adoption and sponsorship process, and is leading me there again. We are in a position to do something about those 29,000– just one at a time, or maybe 2 or 3. Not because we think we have the potential to erase that statistic, but because that's who we want to be, standing for hope to the very end.
The Body of Christ rooted us on in our adoptions, we could have never done it alone, and we are forever grateful for the gift we've been given with our daughters. They now have a mother, father, oodles of grandparents, friends, and dare I say, best of all, sisters! Here's a pic of the girls with their sissies!