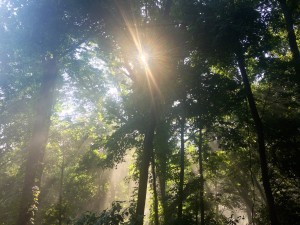 It really is a wonder to me how I could go through life genuinely not realizing that the food I was eating was either healing me or killing me. I feel kind of dumb about it, but then again it wasn't until the 80's that the Surgeon General stated that food does indeed have an effect on disease! Before that, there were very few people believing in the correlation. Now, there are worlds of information out there…and so while I am not an expert, and simply studying holistic nutrition for greater health for myself, friends, and family, I would like to use this blog to share what I'm learning. I can at least share how far I've come even though there is so much road to travel up ahead, and I'll be honest about those things I'm still figuring out.
But today I'd like to just write about food and why it matters to our health. Very simple concept, yet if we believed it what we put into our mouths most meals would drastically change. The first step in this change is knowledge and the next step is believing. The first step actually isn't the grocery store or self control or accountability, those come later. The first step is wisdom and understanding and information…and believing it is true.
First, let's define food. Food is comprised of protein, fat, carbohydrate, vitamins, minerals, fiber, or enzymes or a combination of several of these things. That's food. God made it for our enjoyment, our energy, and for every system in our body to work correctly. When we do not feed ourselves well, and we think "a calorie of this is equal to a calorie of that", we are eventually stressing every system of our body until it can no longer cope. That is when we see disease, disorders, and pain. Not every disease, disorder, and pain comes as a result of food…but many, many do. Doesn't it make sense that every other system in our body is dependent on our digestive system working properly, that we are actually getting the nutrients absorbed that our systems rely on?
Second, let's define processed foods. These are foods that have been messed with–when potatoes are fried and turned to chips, when sugar is added to yogurt, or when enzymes have been stripped from foods to make them last longer (whether that is done in farming or later). Almost anything on shelves, my friends, is processed. Even our dairy is processed unless you're getting it from a local farm. We can't all live on a farm and kill our own chickens, so there is obviously going to be some processing and handling of some of our foods, but I'm talking about foods where the back of the bag or box lists more ingredients than the food you actually think you're eating. When we eat these things, we need to know we are not really eating much food at all and definitely not a lot of nutrients that our body requires. Call it a treat, call it a splurge, but honestly, we can't call it food.
Processed foods as our main diet is causing: behavioral disorders, hyperactivity, learning disorders, headaches, fatigue, cancer, type II diabetes, fibromyalgia, adrenal fatigue, and the list truly does go on. These foods aren't just "neutral", as if "I can eat these as long as I also eat nutritious foods." No, it doesn't work that way. They are acid forming, keeping your body in a state of constant stress and work to become alkaline again (just trust me, that's important!) They make your blood sugar imbalanced, making your pancreas constantly push out insulin and then your adrenals constantly push out cortisol to balance the insulin. Cortisol keeps us up at night and makes us have a spare tire, friends!! No, thank you!! And no, thank you to insulin resistance either, because the next step after that is diabetes. Also, processed foods have been stripped of the enzymes that God put in them to help us digest those foods. A food without its partner enzyme is a very non-useful food inside our body! That's sad when I think about all the money spent on health bars and processed so called 'health food'. And one more thing about processed food is that they use nasty oils that get stuck in our arteries, refined sugar that makes us addicted, chemicals and dyes that should not even be smelled let alone consumed, and more sodium than could float a boat.
Third, let's define real food or whole food. Real food is simple food, as close to the way God made it as possible. Eggs, meat, nuts, seeds, beans, veggies & whole pieces of fruit (organic if you can), whole grains, and raw dairy. There's more obviously, but those are the basics. Along with this real food definition I will say the more you can eat raw the better; in fact, I try for 1/2 my plate to be raw. Real food has the potential to heal our bodies, get our systems in good working order, and give us opportunity for energy, clarity, and the ability to serve those we love.
Today I focused on what processed foods are and what they do versus what real food is and what it can do for you. I'm out of time but later on I will go into detail about specific foods, where to buy them, how to be making the change. One thought I will leave you with is this: You do not have to change every meal, your whole diet, all at once. You may change what you have in the house for breakfast meals first…or you may focus on the evening meal being "clean". You don't have to shop at Whole Foods Market and break the bank; you don't have to go crazy on this. Some of the changes will be huge, some things you will realize you were already doing right!
Learn and believe…and you're halfway there.