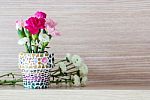 I have been a nutcase lately. Seriously! I've been sick for a few days and in bed a lot and while having some alone time is fun, I've hardly been able to enjoy it because I'm such a nut.
Here's what I mean.
Being sick, even though it is for such short periods of time these days, praise the Lord, brings to the surface all kinds of junk that I wasn't thinking about before. I knew my schedule, or actually how I was feeling about and handling my roles, was about to be a train wreck. I knew something had to give. Staying in bed actually sounded wonderful by Thursday morning of last week. I was constantly wracking my brain trying to figure it out, figure it out, figure it out! It seemed all up to me, I had to fix things, I had to make a plan that could run smoothly and keep every facet of the lives of my people going nicely. Finances, food, wellness, devotions, homeschooling, sleep, friends, extended family events, paperwork, jobs, not to mention the items on a "yeah, right" mental to-do list that just made me feel guilty for never getting around to them. Are you exhausted just by reading that? I am, and I was!
Several of these days in bed I was stewing over things I couldn't control, and God gave me lots of time to figure out that wasn't productive. The discontent and anger floating to the surface had roots. I began to journal and pray and ask God for help! He is so good to meet us in our confusion and need. Once again, it was time to quit.
Quit trying to be known or acknowledged or amazing at something. 
Quit trying to get more than God wants to give me.
Quit thinking that my family's life, success, and happiness all depends on me.
You see, it's not that I needed to quit all, or even some necessarily, of that list above. That would have been the easy answer it seemed. But instead God wanted me to acknowledge and let go of what was making those callings, those gifts and opportunities to serve, a burden. It wasn't the daily life that was wearing me out. It was the way I was living, feeling that everything had to reach a stellar standard, something others would want to emulate, something I could find accomplishment in. Ugh! Such pride! Oh good grief, I just want to remember the peaceful, joyful way of life in the Spirit. A focus on these things:
Learning to live in the Sabbath rest and my identity as the Beloved; my life is a success because I have an under-the-blood-of-Jesus personal and living relationship with God! The desire for being special, being great, needs to be satisfied first in the adoration of the Father…then we can go on with our lives, letting the chips fall where they may, it won't matter much anymore. I think people who have become well known authors or speakers or whatever it is we look up to are either in turmoil for more OR they barely notice their status because they are fully satisfied in what HE says about them. I don't think you can have it both ways.
Learn to dwell in gratefulness for what is; God gave me what He wants me to have, whether that is a lot or a little, whether it is an easy thing or a challenging thing. He gave it. It passed through His hand to me for a reason. He'll change it when He chooses. He really does care about the details and He really hasn't overlooked a thing. Worry should have no place in my life as a child of God, overcomer, and co-heir with Jesus!
Learn to make LOVE my number one priority. Receiving His love–truly making time to embrace it–and slowing down and loving every person God sends my way is such a beautiful thing when I don't let my ideas of success get in the way. Praying for people that God puts on my mind, listening to whoever needs to talk, making time for relationship repair. This rings in my ears: "Did you learn to love?" from the Misty Edwards song, "The Measure of a Man". Oh my goodness,  those three things I am "quitting" have so very little to do with love, at least not love for God and others.
Jesus, Thank You for showing us the way to live life. No, Your story doesn't say a lot about houses and jobs and money and kids, and the right way to prioritize or go about all of those things. But Your story tells us all those things will fall into a beautiful order as we let go of demands and live to know You. You deposit in us all we need for life, abundant life, a life that would actually draw others to You.  Amen.